# Belgian eID (.beID)
# Getting started
The .beID is a card is issued by the Belgian government. A USB smartcard reader connected to a computer is necessary to use the card. End-users must also install the eaZyLink (opens new window) software to be able to use .beID. There are two PIN codes associated with the card, one for authentication and one for signing.
If you want to start using .beID through the Signicat Identity Broker, contact Technical Support who will guide you through the process. Have your sales contract ready.
# .beID settings
Once it has been added to the list of authentication providers on your dashboard, .beID can now be selected. Adjust the settings as necessary and Save the connection.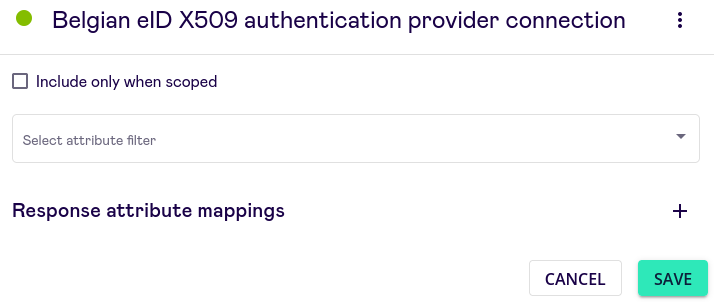 Include only when scoped checkbox: The broker provides scoped IdPs functionality.
Select attribute filter: Select an attribute filter (see __ Attribute Filters for more information).
Response attribute mappings: The user can choose to customise the name of the attributes received in the response body. You can provide none or multiple name-to-name mappings.
# Available attributes
The following user attributes can be retrieved via the .beID method:
Given name(s)
Surname
National identity number (RRN)
# Trial information
If you would like to, you can request a free trial (opens new window) of the Signicat Identity Broker first.
# Other sources